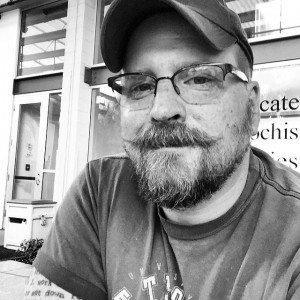 SEAN ABLEY spent the better part of the 90's in Chicago writing, directing and producing theater for his company, The Factory Theater. Some of his long-running productions include Bitches, Santa Claus Conquers the Martians: The Musical, Attack of the Killer B's (also produced in Los Angeles) and Nuclear Family. He also contributed to the ensemble-created works Hooray!, Second City Didn't Want Us or, Is There a Spot In the Touring Company for My Girlfriend?, and P, a comedy adaptation of the "P" volume of the encyclopedia.
Other commissioned and published works include The End of the World (With Prom to Follow), The Adventures of Rose Red (Snow White's Less-Famous Sister), Dr. Frankincense and the Christmas Monster, Camp Killspree, Two-Faced: A Tragedy…Sort Of, Princess Inchworm Measures the Ocean, Confessions of a Male Pin-up, The RISE of the House of Usher, Dracula's Daughters: A Family Comedy, Horror High, Elevator Games, Double Trouble on the Prairie, Dorothy and the Thief of Oz, Exposed! Eight 10-Minute Plays About What Really Happened, We Wish You a Merry Spendmas!, Tortoise Vs. Hare: Rematch! and many more. His scripts are available through Playscripts, Brooklyn Publishers, Heuer Publishing, Eldridge Plays and Musicals, and Next Stage Press. He recently launched Plays To Order, a service to create new plays for high school and community groups based on their specific needs — cast size, themes, length, etc.
As a screenwriter for TV and film, Sean has written for So Weird (Disney Channel), Sabrina, The Animated Series (ABC), Mega Babies and Digimon (Fox Family). He also wrote a bunch of pilots for Klasky-Csupo including Turbo Snail, Shmutz, and Bench Pressly, the World's Strongest Private Dick with Ahmet Zappa, starring Bruce Campbell and Tim Curry. His film work includes Rope Burn, which he wrote for Moving In Pictures, Witchcraft 15: Blood Rose, Witchcraft 16: Hollywood Coven and the award-winning gay sci-fi film Socket, available on dvd from TLA Releasing. In the "Where Does This Belong?" category, he wrote video segments for the Men In Black – Alien Attack theme park attraction at Universal Studios Florida starring Rip Torn.
A staff writing job on the You Don't Know Jack cd-rom series allowed him to move to Los Angeles, where he quickly began working as a reality TV producer/writer on shows such asJep! (Columbia TriStar/Game Show Network), Mad Libs (Disney Channel), Dating Game (Columbia TriStar), WebRiot, Kidnapped, Faking the Video and Next (all MTV), Real TV and Maximum Exposure (Paramount), MDN! (Spike), Renovate My Family and Who Wants to Live Forever (Fox), She's Got the Look (TV Land) and the one-shot special That 70's KISS Show (Carsey-Werner-Mandabach and VH1). He wrote and produced the pilots for Aliens Ate My Game Show (Game Show Network), Hollywood or Bust! (E!), and Wow House (Yahoo), and worked as part of the launch team for the all-video game network, G4, producing both Blister and Sweat. He wrote and produced (and appeared in!) the reality pilot Movies for Guys Who Like Guys for Showtime, and just finished a gig as a writer for Ryan Seacrest on the Emmy Awards Red Carpet .
Sean also produces, line produces and production manages features for many talented writers and directors: A Bear's Story for SGF Productions; Nine Lives starring Debra Wilson (Mad TV), Dennis Christopher (Breaking Away, Chariots of Fire, Fade to Black) and William Christian (All My Children), for Shimmer Films; Gay Bed and Breakfast of Terror for MoDean Productions, Butcher House for FatKidFilms/Idolik Entertainment, comedian Bobaloo Koenig's concert film Full Release, Pornography: A Thriller for Triple Fire Productions, QWERTY for Velvet Candy Entertainment, and The Love Patient for Passion Fruit Productions.
He also wrote the "Gay of the Dead" blog for Fangoria.com for several years. The interviews have been collected in a book entitled Out In The Dark: Interviews with Gay Horror Filmmakers, Actors and Authors. He owns 1,000 dvds, all horror. No lie.
Sean is currently in his second year of the Hollins Playwrights Lab MFA program at Hollins University.